Registration with SiliconEye
With SiliconEye machine vision, aligning cut profiles to registration marks could not be any quicker or easier because SiliconEye lets you see exactly where and what is being cut.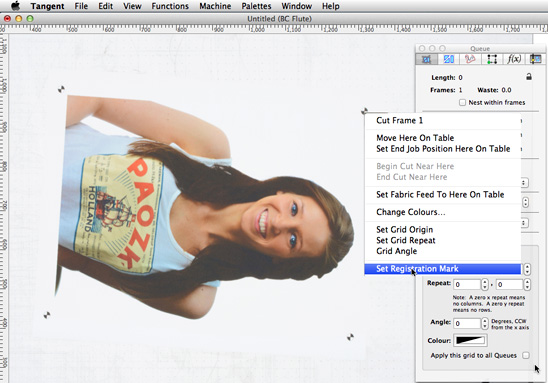 If you need to accurately position cut profiles on printed or patterned materials, then SiliconEye will open your eyes to how easy and quick this can be. Banners, packaging, upholstery and furnishings… it doesn't matter what industry you are working in or materials you are working with, SiliconEye will let you put the cut where you want it… in the blink of an eye.
You can zoom right into a Tangent nesting queue to see every detail and because of the high resolution SiliconEye image in the background of the nesting queue, everything from the cut profile to the printed bull's eyes can be quickly and accurately seen.
Registration marks can be easily set on the background image. Alignment marks on a cut profile can then be automatically snapped to these registration marks… and the job is ready to cut. It does not matter if the material or the profile are not square to the cutting table, they will be automatically rotated to fit. Unlike with gantry mounted registration systems, with SiliconEye, you can see and check the whole job before you press the cut button.
Where the cut profile does not exactly match the material on the cutting table, you have the option of either centring the cut profile between registration marks to preserve the cut size or rescaling the cut profile to fit the registration marks to cut out the entire pattern.
Once you have seen how easy it is to align cut profiles with material on the cutting table with SiliconEye, you'll realise that anything else is just guesswork.